Oracle Smart Space includes the first gadget-based user interface designed specifically for Enterprise Performance Management and Business Intelligence. Offered as part of Oracle Business Intelligence foundation, Smart Space consists of a set of configurable gadgets that run on the desktop providing continuous access to financial, operational and performance related information.
In addition, Smart Space includes a development toolkit for creating additional gadgets and services that employs common development languages and methodologies and a secure instant messaging system for shared decision making.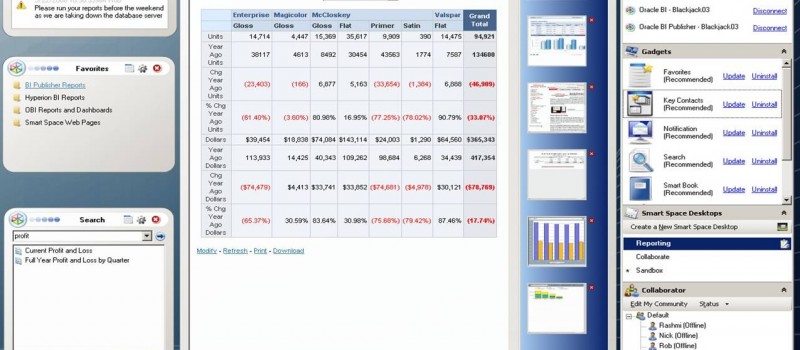 HYPERION FINANCIAL MANAGEMENT GADGETS

HFM Users
This gadget lets you view the users currently logged into HFM featuring smart space messaging and notification, logging off users, and a graphical dashboard.

HFM Running Tasks
This gadget implements the HFM Running Tasks module featuring real-time progress bars that can float around on your desktop, and Smart Space messaging.

HFM System Messages
This gadget implements the HFM System Messages module featuring a dashboard that displays the latest system errors, and warnings.

HFM Consolidation Audit
This gadget lets you analyze your consolidations, featuring a dashboard that lets you analyze your consolidation performance, and Smart Space messaging, and notifications.

HFM Task Audit
This gadget implements the HFM Task Audit module featuring Smart Space messaging, and notifications.

HFM Journal Search
A comprehensive search module that lets you search journals by any of the journal fields including accounts, amounts, and dimensions included in the journal.

HFM Alerts
Subscribe to a user or a task and receive real-time notifications of system activities you\'ve subscribed to.

HFM Journals
A comprehensive Journal module that lets you perform journal tasks on multiple periods. This module also helps you visualize the status of your journals for the current year, and provides a graphical dashboard that summarizes recent journal activity.

HFM Metadata Viewer
This gadget lets you view the attributes for a particular metadata dimension.