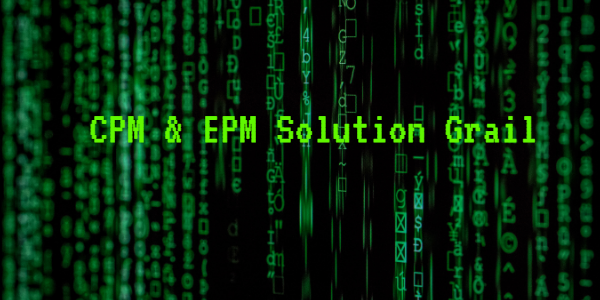 The Goal Getters ("TGG") are in constant pursuit of the CPM & EPM solution grail for our clients — better ways for Finance and Accounting to understand their organization's financial performance and drive future business plans.  It is a solution grail in the sense that it is elusive since the right CPM & EPM solution must continuously evolve and adapt to remain effective and relevant for an organization.  Technology, globalization, and compliance have had a profound impact across all industries and in some cases, re-defined or create entirely new business models.
While the CPM & EPM solution landscape has changed tremendously over this period, we believe its pace of change is set to accelerate even more in the years ahead.  Tracing back to its roots and how it has evolved can help us predict what the next generation of CPM & EPM solutions will look like and better prepare our clients for the future.
Back in the 1980's when most organizations were struggling to perform financial consolidations and budgets using spreadsheet programs like Lotus-1-2-3, Quattro Pro, and Microsoft Excel 2.0, a glimmer of hope emerged — a company called IMRS launched a financial and management consolidation software called "Micro Control".
Nearly a decade later, IMRS launches Micro Control's windows-based successor called "Hyperion".  With financial consolidations under better control at the time, the need for better analytics beyond spreadsheets exploded.  Arbor Software had predicted this trend and hence responded with the launch of its first version of Online Analytical processing ("OLAP") software called "Essbase" — Extended Spreadsheet Database.  At this point, IMRS and Arbor Software were the undisputed CPM & EPM solution leaders with other emerging players such as Cognos, Sinper/Applix TM1,  Outlooksoft, and Longview Khalix.     
IMRS and Arbor continued to compete and compliment each other until late 1990's, when the merger of these two Goliaths was announced — emerging as Hyperion Solutions.  To this day, "Hyperion" remains as a de facto moniker to CPM & EPM solutions, similar to how Kleenex became the moniker to facial tissue.
At the turn of the century (year 2000), CPM & EPM solutions became main stream set with explosive growth in both capabilities as well as intense competition.  Gartner created a CPM Magic Quadrant to track players in this space while tools to better manage master data, data integration between financial systems, and data visualization became increasingly important.  By 2010, the software super titans had established a strong foothold in this arena.  Oracle entered this market through its acquisition of Hyperion, IBM with its acquisition of Cognos/TM1, and SAP with its acquisition of Outlooksoft.
Although this decade (2011 to 2020) has not yet officially ended, it has become a defining moment for the CPM & EPM solution space — one that will significantly alter its future course.  In many ways, it parallels the evolutionary journey of media format consumption — from BETA/VHS video cassettes, the rise of VCD/DVD/Blue Ray discs, to its demise to on-demand online streaming services like Netflix, Hulu/Disney+, and Amazon Prime.  Innovate or become obsolete.
Below is a run down of the top 5 trends of this decade for CPM & EPM solutions – to read more on our analysis, click here:  
CPM & EPM software super titans displaced from leadership position as new nimbler leaders emerge
Cloud picks up momentum as On-Premise shrinks
Narrative Performance Reporting solutions take the spotlight
Increased focus on Integrated Planning
Over the next decade (2021 to 2030), we predict the following budding trends to take flight.  In a nutshell, we see a lot more D.I.R.T. coming — a topic we will explore further in a subsequent post:
Drive for Deep Insight Analytics

Implementation of Continuous Planning

Rise of Robotics Process Automation (RPA)

Tighten security over Financial and Operation Data
Clearly, the search for the CPM & EPM solution grail is not a simple or static solution; rather, it is an evolutionary quest led by innovation in finance, accounting and technology.  It is one where the grail will itself with each passing decade.  Where is your pursuit of this grail today and is your organization ready to take advantage of and be ready for what is to come?