The TGG crew headed off to Seattle this year to Seattle for the ODTUG Kaleidoscope conference  in search for the ultimate coffee run at the very first Starbucks cafe – where its success all started!  Although they expected a longer than usual line up, they were pleasantly surprised by a short and fast moving queue.  "How could that be?" they thought as they savoured their coffee.  That should come as no surprise though since there was literally a Starbucks cafe on every other corner!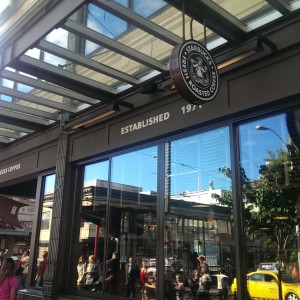 1st Starbucks Cafe – where it all began
When the Starbucks barista serving us found out we were Canadians, they gave us some extra treats on the house!  Apparently, it was to thank Canadians for being so supportive of Starbucks – that's when we found out that that Canada actually has the most number of Starbucks cafes per person.  Armed with caffeine flowing through our veins, the TGG crew went on to attend the ODTUG Kaleidoscope 2014 gaining informative insights from Oracle's Hyperion EPM Product Team in terms of roadmap and product direction, catching up with familiar faces and making great connections with new ones!