With the end of support for Hyperion 11.1.2.4 approaching and Hyperion 11.2 being a terminal release, companies are forced to consider their go forward options. One of the leading tools is Oracle EPM Cloud – Financial Consolidation and Close (FCC). However, FCC is not Oracle Hyperion Financial Management (HFM) in the cloud, but a completely new product.  While FCC is a Software as a Service (SaaS) solution geared towards producing consolidated financial statements just as HFM is, it goes beyond HFM as it addresses other common challenges faced by Finance and Accounting in its period close process. Some of the additional challenges FCC addresses are period close task orchestration and capture of supplemental financial information traditionally not handled by a pure financial consolidation software.  However, when it comes to core financial consolidation features and functionality, there are aspects of FCC that have yet to reach parity with HFM.
While FCC comes  with many new features and keeps on improving with each update, there remain unique challenges for organizations to  overcome when migrating from HFM to FCC.
What are these challenges?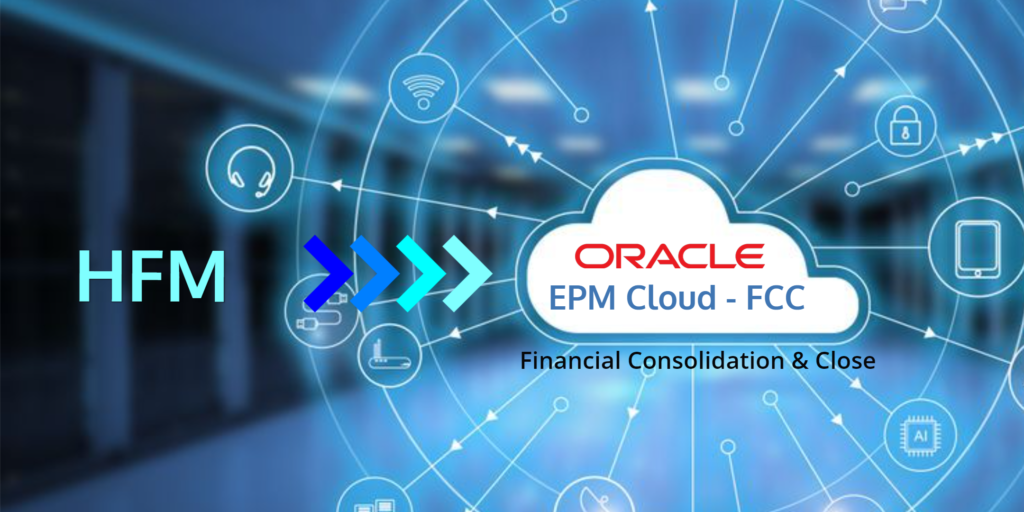 1. It is not a simple lift and shift
HFM to FCC is not an application upgrade. While similar, the underlying data model and functionality is different, so it warrants careful consideration on how things will be migrated. Accordingly, this can impact current state processes and its related internal control environment. Similar to a net new implementation, the migration to FCC often requires a design, build, test, and training/user adoption phase. The effort and duration of each phase will be dependent on several factors.
When migrating to FCC, it is generally a good time to perform "spring cleaning" and harvest opportunities to further streamline the consolidation and close processes. Perhaps there are schedules and reports no longer required, or entities no longer relevant? Or perhaps certain custom logic built in HFM is no longer required as it is handled out-of-box in FCC? Why not reduce reliance on spreadsheets especially as it relates to supplemental financial information not captured in HFM?
What are your requirements?  Does the current process meet your needs or is there a desire to add, remove, or modify/simplify?
If the current HFM applications are meeting the requirements with minor changes needed, then the migration efforts would be centric around updating metadata and rules. Other items such as forms, reports and security can be readily reproduced.
Otherwise, the changes would have to be evaluated to determine additional effort needed to meet requirements.
2. Training/User Adoption
A significant amount of time should be dedicated to training and adoption specifically for current HFM power users and admins. Although FCC possess similar capabilities to HFM, under the hood, its technical foundation behaves more like Oracle Hyperion Planning/Essbase, which is very different from HFM. This will likely change how these users will interact with the software including the design of certain internal controls over financial reporting.
FCC is updated every month by Oracle, first in a client's non production environment and then subsequently in their production environment two weeks later. With any software updates, there is always a concern that it could cause unexpected issues. With FCC, this likely translates to an incremental effort required by Finance & Accounting due to the frequency of the updates.
Please note:
Updates can be postponed for some time by request if during a critical period BUT not indefinitely.
Most added enhancements are done behind the scenes and would need to be enabled to be utilized. Therefore, after an update is made, these enhancements should not impact existing processes unless explicitly enabled/rolled out by the client.
To alleviate the incremental burden caused by the frequent software updates, we recommend that clients develop and maintain an effective smoke test plan that can be readily performed subsequent to each applicable system update to proactively identify and resolve any issues. Once a tried and proven set of smoke test procedures have been developed and are indicative of the core functions relied upon, it may be worthwhile to invest in streamlining the execution of these smoke tests (including collation of test results) through the included tool EPM Automate or integrate with other Robotic Process Automation (RPA) technologies. TGG has numerous pre-built modular automation scripts under its EPM RPA offering that may help expedite such efforts.
4. One HFM application could mean more than one EPM Cloud application
Unlike HFM, a single pod instance of FCC can only contain one application. This means that if you currently maintain multiple HFM applications in your on-premise production environment, migrating to FCC likely will result in multiple pod instances.
There are two types of cloud subscriptions, Standard and Enterprise. The Enterprise subscription allows stand up of multiple pod instances while Standard subscription only provides a single pod instance with the option to purchase additional pods.  For more information on the differences between Standard and Enterprise subscriptions click here.
HFM is highly configurable to meet a broad set of requirements, however, leveraging the software to meet requirements outside producing consolidated financial results (e.g., complex allocations, business planning, etc.) is generally not good practice as this can result in performance issues or ongoing maintenance constraints. FCC product development direction (and Oracle EPM Suite as a whole) is moving more towards utilizing pre-built best practices and removing the need for customizations where possible. Oracle envisions that such an approach should make the applications more efficient and easier to administer. For example, if your HFM application has been configured to handle both Financial Consolidations and Business Planning (FP&A), it may be more prudent to have an FCC Pod as well as a Business Planning Pod, rather than migrate your HFM application into a single FCC Pod instance. In turn, this may translate to less customizations and improved performance and efficiency.
Ultimately, the product direction for Oracle EPM Cloud is to have dedicated applications containing pre-configured best practices to efficiently fulfill the different business requirements rather than have one giant application to address all requirements.
Therefore, one HFM application could potentially migrate to one or more EPM Pod instances. Such assessment should be included as part of migration planning.
Many HFM applications commonly utilize Oracle's Financial Data Quality Management (FDMEE) software to handle the data load processes from source general ledgers into HFM.
The cloud equivalent of FDMEE in Oracle EPM Cloud is Data Management. However, there are notable differences between FDMEE and Data Management. When determining data integration aspect of the migration strategy to FCC, consider the following:
Are you directly integrated with your source system to pull data out on request? If so, depending on the source you may also need to implement an EPM Integration Agent (included with EPM Cloud subscription) to handle that integration.
Do you utilize scripts (Custom and Event Scripts)? If so, EPM Integration Agent combined with EPM Automate can reproduce most of FDMEE's scripting capabilities and where functionality gaps exist workarounds can be explored.
Are you utilizing any database driven processing? If so, that processing will need to be converted as the EPM Cloud does not offer direct access to the database. More likely the processing could be handled in Data Management directly or the EPM Integration Agent.
Are you using any customized FDMEE reports? If so, that would need to be converted as customized report templates are not available in EPM Cloud currently.
6. FCC vs HFM Metadata Validation Rules
FCC has different metadata validation rules than HFM.  As a result, it is prudent to assess the incremental conversion effort, if any, required.
Below are examples of how FCC handles metadata validation differently and consequently could result in changes to the metadata for conversion purposes:
Only base entity members should be shared if needed, otherwise this may cause issues with intercompany eliminations and report drill down on alternate hierarchies. HFM allows for shared parent entities without this issue.
A member name needs to be unique to any other member in any other dimension. In HFM this was limited to within a single dimension.
Oracle has already announced that HFM version 11.2 will be a terminal release – meaning there are no plans to further enhance or support this product beyond the set end-of-life date.  Therefore, it is important that organizations start planning their migration strategy off HFM sooner than later.  Oracle's recommendation is to migrate onto it's Oracle EPM Cloud.
We believe the information herein can help organizations develop a sound migration strategy and make an informed decision on its go-forward option in replacing HFM and are available for any follow up discussions.
If you have any questions or feedback, please reach out to us at support@goalgetters.com
Please note that items above may be resolved in future updates. Customers can submit and vote on ideas in the FCC Idea Lab here.
Further, Support Requests can be made directly within FCC.