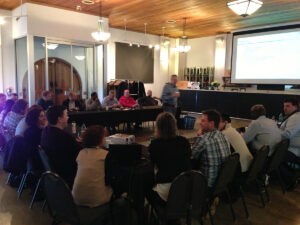 When the Goal Getters get together, they are always thinking of better ways to make very complicated data easy to process.
We want our clients to get the big picture "at a glance", and the 2013 Annual Meeting brought up new solutions to this challenge. This was a "summit" of the best and brightest Hyperion "scientists" – yes, it felt more like a scientific conference than a business meeting. 
The company is gearing up for a period of transformation, with a big investment in infrastructure as well as expanding US operations. "In this business, if you can't change, you won't survive" says CEO Peter Sidgwick. "We're looking forward to some important strategic alliances, more mentoring and sharing skill sets within the organization and adding new skill sets and branching out our suite of products and continuing to provide excellent implementation assistance and troubleshooting."
He spoke about TGG's "Centre of Excellence," its ongoing commitment to strong customer orientation and quest for better ways to serve his clients and give them value.
"Innovation is what differentiates Goal Getters, " he said in a meeting that had its light-hearted moments as he asked the group to think of trivia questions and handed out prizes for the correct answers.  The rest of the evening was taken up with wine tasting tours of two wineries in Niagara-on-the-Lake, lots of great food, and of course, many conversations about solutions that will make Oracle Hyperion jump through hoops.