Stuck on an issue with your Finance and Accounting solutions? Looking to get more out of your CPM & EPM platforms?
Check out our knowledge and support portal:
TGG's MSO is a team primarily dedicated to providing Managed Services for Finance and Accounting solutions – from leading Corporate and Enterprise Performance Management solutions such as Oracle EPM or OneStream, to Oracle Cloud ERP.  Our team is based out of our Canadian head office at Yonge and Eglinton in Toronto, Ontario, and is available for on-site work if and when required.
TGG MSO goes
deskside support
TGG MSO team's broad range of service offerings allows for a tailor made care program ranging from application security administration, technical troubleshooting and patching, to ongoing digital upskilling for end-users: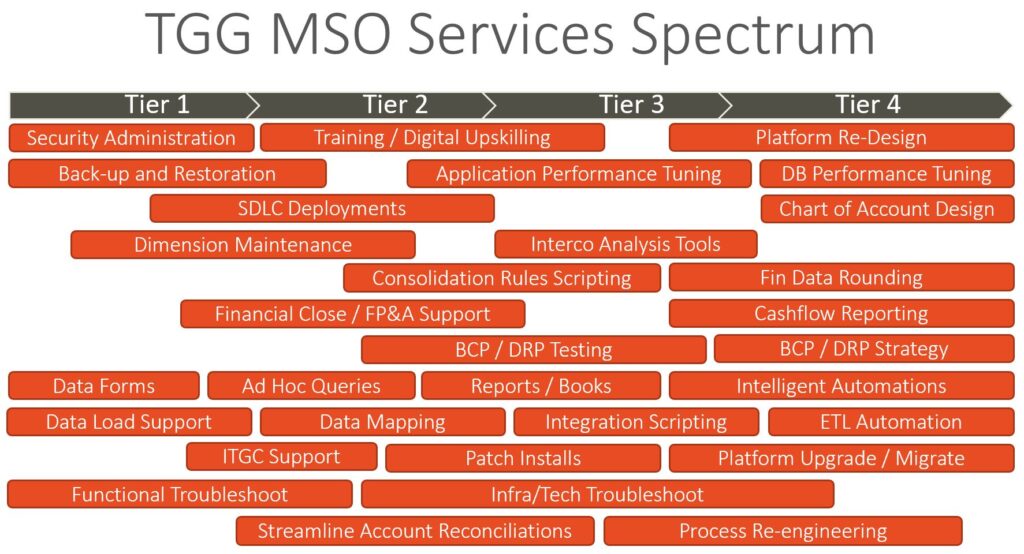 Having a dedicated Managed Services team unlocks value for Finance and Accounting:
Allows individuals to focus on analysis for value added decisions, rather than "keeping the lights on" maintenance
Solves the problem of retaining administrators/knowledge
Staying ahead of the curve on patching and enhancements
Provide quicker turnaround times for enhancement requests by removing workload bottlenecks
Proactively mitigate risk of unplanned outages caused by interdependent infrastructure updates
Flexibility to scale capacity without FTE commitments
Maximize value from your solutions (e.g., leading practices, discovering less known but invaluable functionality, etc.)
Our MSO Support model is adept to scaling with your business, offering access to skilled resources and the capability to ramp up during peak business periods and ratchet down during quieter periods.
Add Value
By design, our team knows more ways to mine greater value from your applications and CPM & EPM platform.  Our broader exposure to multiple clients, industries, and tools enables us to refine leading practices to improve your end-users' experience with and value from your systems. Beyond routine maintenance and administration, our MSO team has delivered solutions such as, but not limited to:
Automations (RPA, workflow, regression testing, etc.)
Business Continuity Plan and Disaster Recovery design and testing
Administering a tailored Digital Upskilling program for Finance and Accounting
Functional SG&A analysis extensions
Automated cashflow analysis
Value driver tree modelling
Environment installation, patch assessment/implementation
Hosting administration
Manage Risk
Your Financial Systems are home to one of your most valuable information assets – financial data. Whether your requirements be functional or technical in nature, having a dedicated MSO team allows for optimal functionality and availability, enabling the business to prioritize value driven utilization of the solution.
The TGG Support model assigns dedicated Associate Consultants to each subscribing client, who have ready access to our broader TGG team from Senior Consultants to Solution Architects where required.  We also have direct connections to software engineers on the respective product teams as a further point of escalation to expedite resolution.
User Adoption Champions
Modern Financial systems are increasingly powerful but also complex.  Accordingly, it is common that most organizations only realize 50% or less of the value that these  systems are capable of delivering.   
Probably root causes? 
Post implementation set and forget mentality – the parking lot items never get addressed
Finance and Accounting resources are constantly under immovable deadlines – in turn, knowledge retention from training as part of implementation is low.
Digital skills gap / reluctance to change
Unaware of capabilities beyond scope of initial implementation
Much of this value can be unlocked simply by establishing an explicit and constant focus on user adoption for these systems.  TGG MSO has an established track record in developing and executing upon User Adoption strategies – whether this be establishing and administering a Digital Upskilling program through TGG Certified, proactive root cause and trending analysis for logged incidents, or identification of opportunities for continuous improvements. 
TGG MSO is often seen as
to our client's Finance and Accounting teams.