Updated: 2019-SEP-30
Fresh off the press on the heels of Oracle Open World 2019 wrap-up.  Yes — there were some interesting announcements coming out of Oracle's iconic annual conference — new branding with softer colours /softer go-to-market tone, autonomous operating system, enhanced digital assistant (formerly Oracle Chatbot) and always free development environments to name a few.
However, for the #modernfinance community reliant on #Oracle #Hyperion #EPM On-Premise Suite to produce consolidated financial statements or facilitate business planning (budgets, forecasts, analytics), the most important news we heard …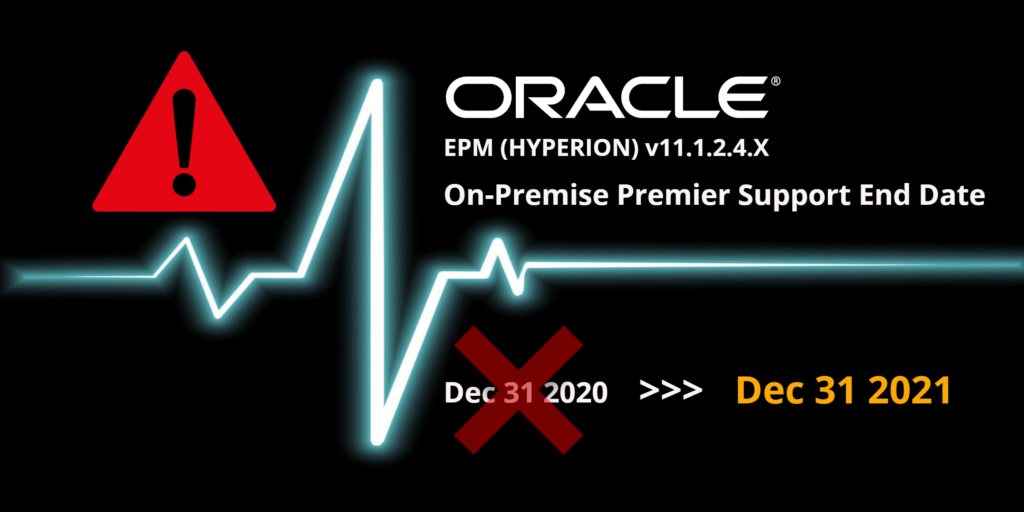 Premier Support end date for version 11.1.2.4.X has been extended!  
While this has yet to ascend to "official" released status, our internal sources have confirmed that premier support end date has now been extended from December 31, 2020 to December 31, 2021.  Whether the option to purchase extended support beyond this date is still in question.  
It is now official — December 31, 2021 is the new date for Premier Support end date for 11.1.2.4.X.  Related, Oracle has cancelled the option to purchase extended support beyond this date.
This is welcoming news:
Oracle Hyperion EPM version 11.2 has not yet been released.  Our sources indicate that it is now looking more like end of October 2019 release date with a possibility of further delays.  Ultimately, the alignment of foundation components to a unified technology standard is not a small task and certainly not to be taken lightly.
 Per technical information released, version 11.2 will be shipped with Essbase 11.1.2.4.  Organizations reliant heavily on Essbase may consider holding off an upgrade until a later version of Essbase is released.
The extension provides additional time for organizations to weigh its options and properly plan out its 2 to 3 year financial application road map and better align to business priorities.
As we find out more, we'll post updates here.